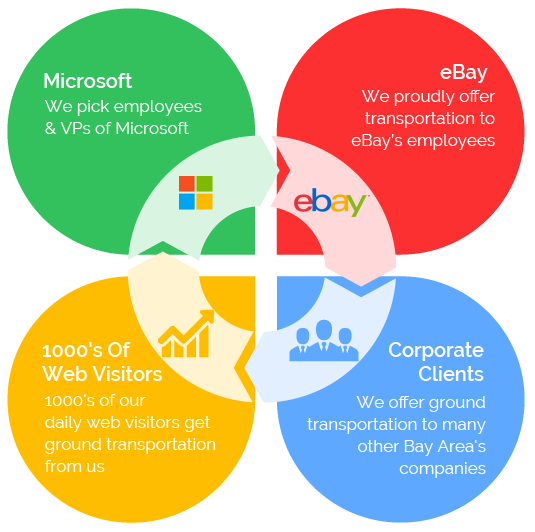 Limo Service Belvedere for Affiliates
Our company Limo Service Belvedere is the top ground transportation service provider in San Francisco, the Bay Area, & worldwide in 120 different countries. Our fleet of limousines and luxury buses is exclusive and we have an assortment of vehicles for every occasion. We are looking forward towards the association with the premier ground transportation operators in and around the Bay Area, San Francisco and worldwide. If your company has the latest models of luxury vehicles like limos, sedans, SUVs, and buses, and you are licensed with updated insurance you are welcome to our affiliate program.
With the affiliate program, we wish to share our bookings with the premium transportation operators. In simple online steps, our affiliates can book luxury transportation for their clients or just give us a call. When you send us a query regarding ground transportation, we get in touch with you and as a team, we can start an association together.
Join us at Limo Service Belvedere and start offering your services to the corporate giants like Google and eBay. We have a wide network of quality customers in the Bay Area and San Francisco.

API
As an affiliate with Limo Service Belvedere, you can use our API and reserve jobs directly through your website. You can also add extra charges on the commissions we offer you.

White Label iFrame
By using our link on your website, your customers can easily book a ride worldwide.

Travel Agents
If you are a travel agent, we offer you an association with us as an affiliate. You can book luxury ground transportation through our website and get good commissions.

Helpful
Training
At Limo Service Belvedere we offer you the training on booking jobs for your customers through our website.

High average
Job Value
While you work with us as affiliates, we reward you with good commissions each time you book our ground transportation for your customers.

Advanced scheduled &
On-Demand Work
Our services are prompt and you can trust our reliability of on-time arrival on online as well as at the spot transportation booking for your customers.
Testimonials from our Affiliates
– Sunny Singh, Lavish Limousine
– Juan Sergio, Kings Limo
– David Bitton, Platinum Limousine
For quality CPUC licensed companies
It's simple to get started

Signup Online
You can sign up with is online in just a few seconds. All you have to do is complete the info, fill the fields and submit the form online.

Upload documents & your rates
We will guide you the steps of uploading the documents

We'll call to show you
the process
We will offer you the training on accepting and booking jobs on our website.